Welcome to Fashion Pakistan
We bring both fashion designers and style concious people at one platform through our fashion website. If you are a fashion designer of Pakistan, no matter in what city, Karachi, islamabad, lahore, peshawer or any other town of Pakistan, we can list your products, styles dresses or your fashion lable at our website. So it's easy for your clients to search oy uon net and thus opening more channels of buyers and clients to search you through net. So just send us your company or label profile with portfolio to us. We will list your name and designs at our website with no fees.
Pakistani Clothes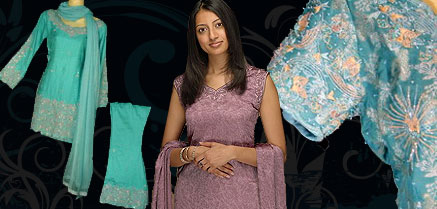 Pakistani clothes are being highly stylized by our latest designers and stylist. This is the reason that have made them famous among western world with little or no alteration in designs and styles...Dress designers give the dress an entire different look which is made according to styles and trends. Dress designers know what is wanted in a dress and what is suitable to which person. Young youth loves to wear the designer dresses and love to stay up-to-date with latest fashions generated by different dress designers. People prefer to go to the dress designers to get their dress designed for important events. Dress designers participate in international fashion shows and depict their designed collections across the world. You may look in resources of this site to find dress designers of Pakistan.
Dress designers of Pakistan are famous for making outstanding dresses and the sensational use of colors in dresses throughout the world. Pakistanfashion.net provides you complete information on dress designers and provide you the opportunity to get your dress designed by famous dress designers. The most famous dress designers of Pakistan are:
1. Nilofer Shahid
2. Maheen Khan
3. Sana and Safinaz
4. Rizwan Beyg
5. Amir Adnan and Huma Adnan
6. Deepak Perwani
7. Ronki Kamikar
8. Maheen Kardar
9. Sadia Mirza
10. Aijaz Aslam