Pakistani Fashion Models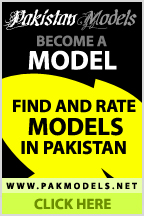 Want to become a model in Pakistan? If you are a fashion model and have spark to touch heights of showbiz world, we can help make your dreams come true. Visit our modeling website below. Pakistanfashion.net gives whole information about fashion models from Pakistan. Fashion models carry the trends and depict the fashion cloths. Here you'll find photos of known models of Pakistan along with their biography. You'll see fashion models from Pakistan wearing different new arrivals of outfits. Fashion models from Pakistan are known for their uniqueness and beauty and are highly appreciated globally.
Latest fashion of jewelry, cloths and other accessories is introduced through models in the country. A model plays a vital role in the promotion of a fashion. You can search for different models of Pakistan through pakistanfashion.net.
We keep you up-to-date with the latest ratings of Pakistani models. The models gracefully walk on the ramp for different fashion weeks across Pakistan; models also go to different countries internationally and work with other international models. In present the top fashion models from Pakistan are:
1. Vaneeza Ahmed
2. Iraj Manzoor
3. Nadia Hussain
4. Cybil Chaudry
5. Sunita Marshall
6. Iman Ali
7. Amna Haq
8. Meekal
9. Alix
10. Imran Abbas
Fashion Models in Pakistan