Pakistani Lawn Prints
Summer time calls for extensive shopping and reinventing your wardrobe with vibrant colors and exotic designs. And we all know what is the most shopped for fabric and favorite item for women all over Pakistan. Yes!! Its lawn with its colorful attractive designs and light fabric makes it the ideal fabric for hot summers we have in Pakistan. Lawn designs are popular among urban as well as rural areas of Pakistan because of its affordability and feminish designs. At our website we give you complete lawn designs coverage for the season and bring you the latest trends Pakistani lawn prints. There is also info on latest shalwar kameez styles so you know how to look chic and trendy in lawn. We bring you latest on unique lawn prints coming from major lawn designer collections. Designer lawn collections are made especially for Pakistani women who will pay a few extra bucks to find a unique lawn print and lawn designs that not everybody can buy from market. Here at our website you can find photos of lawn prints from exclusive designer collections.
These stylish photo galleries of lawn designs will also tell you how to turn your prized lawn purchases into dresses that look chic. These dress styles in lawn are the latest craze which is further embellished with colorful ribbons, fancy laces and improvisation through a lot of mixing fabric. After success of Vaneeza Ahmed's venture in lawn many other local designers have set their foot forth in designing lawn prints. Here we give you details about designer lawn exhibition as well so you don't miss a chance to get your hands on best lawn prints coming from designers all over country. Vaneeza lawn prints, mausammery lawn, warda lawn collection, sobia nazir's lawn, Yasir Waheed lawn exhibition, classic lawn, Gul Ahmed, Sana Safinaz lawn and much more. You can a number of ideas on how to get your lawn dresses stitched by browsing through online pictures of lawn designs and dresses. And for people living abroad who miss the feeling of this lovely soft fabric can now purchase lawn prints online. So reinvent your wardrobe with lawn prints and get ready to go trendy with lawn this summer!

See below our coverage on Lawn dresses:
Designer Lawn Prints collection
colorful lawn prints
Gul Ahmad Lawn prints and designs
Famous Block Prints Boutique
Buy Online Lawn Dresses for sale in Islamabad, Lahore, Karachi
Lawn shirts with chiffon dupatta
Lawn shalwar qameez suit.
Emroidered lawn dresses at reasonable and affordable prices.
New Lawn Prints Pakistan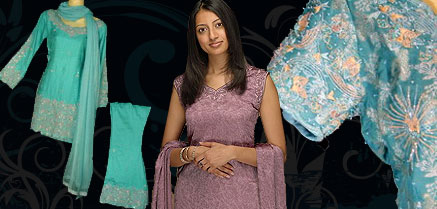 Pakistani clothes are being highly stylized by our latest designers and stylist. This is the reason that have made them famous among western world with little or no alteration in designs and styles...Read more...